Warmth In Winter 2005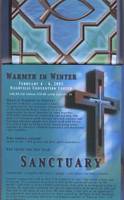 Wow, I just can't get the weekend out of my head! I spent the weekend with 35 of my youth, 8 adults from my church and 2,500 youth and adults from all over TN attending Warmth In Winter, a youth conference for United Methodist youth in TN.
I just didn't think our youth group could get much closer than we are, but we did. At the conference our speaker was
Ray Buckley
- a Native American Christian who lives in Alaska. Throughout the weekend he shared stories from his tradition/culture, family, and the faith that not only moved me and our group but in many ways moved us each to different places in our faith. He had a quiet way of speaking that instantly won trust and invited me to listen closely. His words danced all through my head weaving a soft blanket that invited me to wrap myself up and get warm. By the end of the weekend, as stressed as I was (I was coordinating our Sunday worship with a group of youth- which went beautifully) the Blanket that continued to warm me also brought me a sense of peace.
I don't think I've ever had a retreat experience quite like this one. God came to our group this weekend as a Warm Blanket- a comforter, a giver. I'm still breathing in and out the rich Spirit that we came away with.