JAROSLAV PELIKAN ON THE FUNCTION OF THE HISTORICAL CREEDS: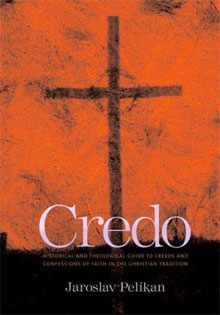 "Creeds function the way a constitution functions in a political society--as a statement of shared principles and convictions, and a celebration of those convictions. Just as we, in the American political order, cherish and value individual freedom but believe that freedom is protected both from external force and from its own internal threat by a constitution and the bill of rights, so a creed is a way of enshrining faith in such a way that people can go on affirming it..."
MY THOUHGTS:
Reading this quote from Pelikan makes me think that the creeds could be an invaluable source of common ground for a very polarized American church. The creeds, especially some of the ancient ones such as the
Nicene
and the
Apostles
Creed, can be common ground for a church who so desperately is in need of unity. As I read them I see the very basic tennents of faith that I would hope all Christians agree upon. It's once we begin to add the "hows... whys... who... etc...." to the creeds that we begin to get devisive. It reminds me of all the many and superfluous rules and laws that evolved over time for the Jewish people in the Bible. Have we made it too difficult to agree with one another in the church? I don't think so, since all things are possible with God, but I do think we make it way too difficult and cumbersome.
shalom all,
j.