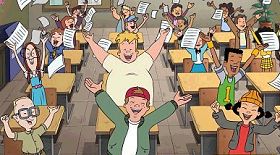 ... has drawn to a close. Last week I completed the last of my papers for Patristics: the first 600 years of church history; and Theories of Atonement. Both were good classes and I'm glad they are over. I am not planning on taking summer classes.
However,
Licensing School
is quickly approaching (May 21-27) and there's lots to write for that, including:
1. A 3-5 page sermon that I have to be ready to preach at the school
2. A Reflection paper on the book of Nehemiah and how it can inform ministry in the 21st century
3. 3-4 essays related to two different reading assignments: one deals with the Mccabean War and the other is a simulation of receiving an appointment in a small town rural church
4. Prepare an order of worship from start to finish
Although none of these assignments seem to be too difficult, the difficulty will obviously lie in trying to get it all done in time. Please keep my procrastinating self in your prayers.
shalom,
jonathon